Here you have a partial list of my compositions, as well as a list of arrangements of traditional music or pieces by other authors. I selected these arrangements because I consider each one of them add a substantial amount of creative work to the original composition. All these compositions and arrangements are written down with a score and individual parts. They all have been performed, some were professionally recorded and published and some were informally recorded during live performances. Music scores and parts are available for purchase. Contact me if you are interested.
Compositions
Canción para Tu Sueño (Song for your Dream) – swing-bulerías-son – a ten-minute composition for piano solo, or piano and cajón
Canción para Tu Sueño (Song for your Dream) recorded by Chus Alonso on piano and Sage Baggott on cajón,

Nocturno de la Ventana (Nocturne of the Window) – nocturne – for piano solo
Pianist Allison Lovejoy commissioned me to write a nocturne for her project New Nocturnes.
Here you can listen to a fragment of her interpretation of Nocturno de la Ventana, recorded in 2013

Suite de los Barrios (Suite of the Neighborhoods) – In 2012, The Bernal Hill Players commissioned me to compose ten minutes of music depicting San Francisco. I wrote a suite in three movements about three neighborhoods ("Waves of the Pacific," "Downtown" and "The Mission") – instrumentation: flute, clarinet and piano
Here the first movement:
Suite Flamenca – a suite for classical orchestra in four movements ("Introduction," "Soleá," "Soleá por Bulerías," and "Bulerías") – it was premiered in 2007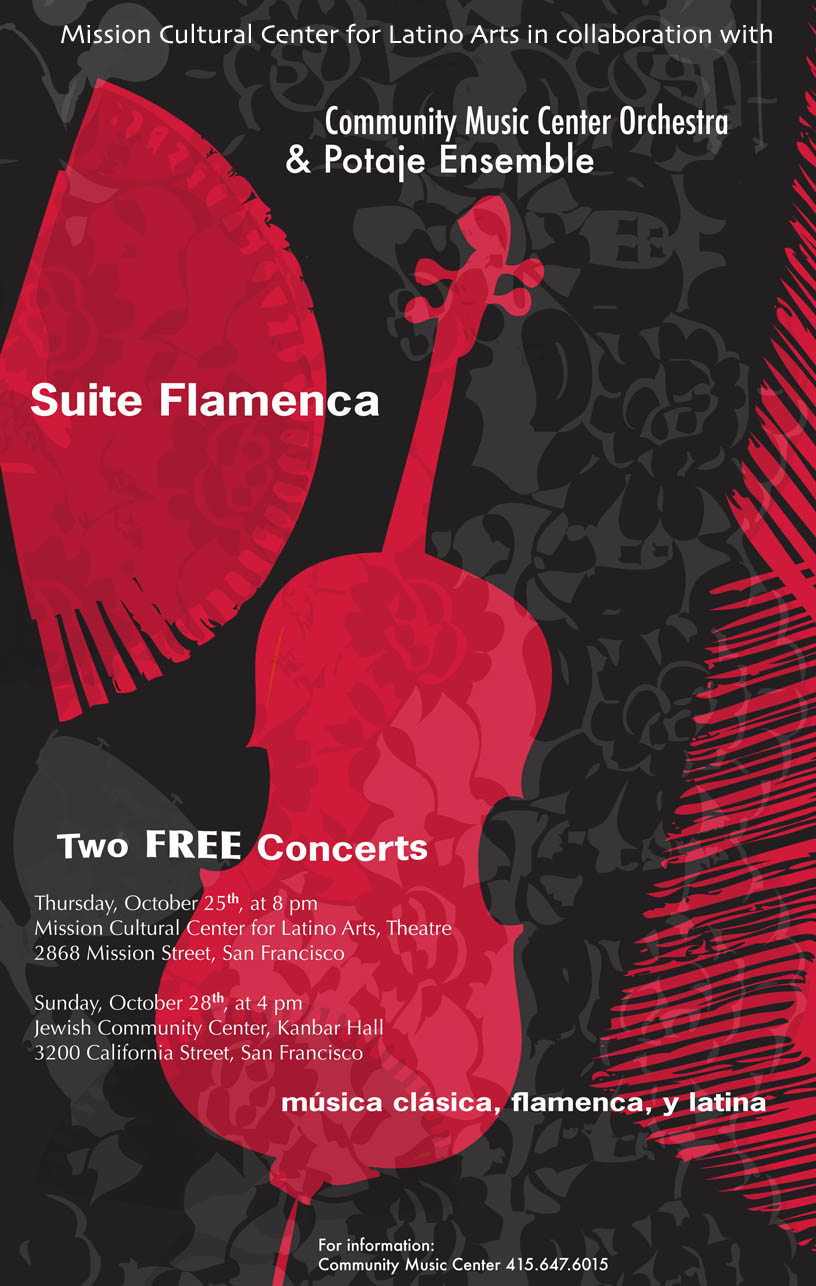 Vals del Mensaje (Vals of the Message) – Latin vals – for piano solo
Insisto (I Insist) – slow swing – for piano solo
Latin Puzzle – a suite for classical orchestra in four movements ("Castillo de Sonidos," "El Monte," "Tambor y Laúd," and "Habanera")
Luna Llena (Ful Moon) – for piano solo
Noche Más Larga [La] (The Longest Night) – for classical orchestra
Here a fragment from the premiere in 2007 by the CMC Orchestra and Potaje musicians at the Kanbar Hall in San Francisco. Potaje musicians included Paula Dreyer, piano; Steve Senft-Herrera, bass; Sage Baggott, percussion; Brian Rice, percussion; and Omar Ledesma, percussion.
Solsticio (Solstice) – soleá por bulerías – for flute and piano, or flute, clarinet and piano
Triptych piano
Canción del Diablote (Song of the Big Devil) – composed in collaboration with Carlos Barón – instrumentation: piano and voice – This was part of the Christmas musical, La Posarela
Vieja Encina [La] – Classical sounding for ceremonias – flute solo
Compositions for Flamenco Ensemble
Como el Humo (Like the Smoke) – Bulerías – appeared in Potaje's CD, Charanga Flamenca (1999) – instrumentation: flute, violin, guitar, bass and percussion
Como el Humo (FRAGMENT)
Con Alma (With Soul) – soleá por bulerías-bulerías – suite in three movements ("Por Fin," "Nacimiento" and "El Vito") – it appeared in Potaje's CD, Flamenco Cat (2008) with this instrumentation: flute, violin 1, violin 2, cello, guitar, piano, bass and percussion (pandeiro, cajón, palmas and darbuka)
Por Fin (FRAGMENT)
Flamenco Cat – lamento – it appeared in Potaje's CD, Flamenco Cat (2008) with this instrumentation: piano and flute
Gallo [El] (The Rooster) – flamenco tanguillos – composed in collaboration with Jorge Liceaga – instrumentation: flute, violin, cello, guitar, piano, bass and percussion
Hasta el Hierro se Funde (Even Iron Melts) – siguiriyas-tangos – suite in four movements ("Siguiriyas Rápidas," "Siguiriyas Lentas," "Tangos del Invierno," and "Tangos Nuevos") – it appeared in Potaje's CD, Flamenco Cat (2008) with this instrumentation: flute, violin 1, violin 2, cello, guitar, piano, bass and percussion (anvil, palmas, darbuka, cajón, metal drum, wood blocks and chékere)
Homenaje a Manuel Soler (Tribute to Manuel Soler) – soleá por bulerías – based on rhythmic ideas by Manuel Soler and dancer La Eva – instrumentation: piano, bass and percussion (palmas and cajón)
Lunares (Polka Dots) – suite in three movements ("Flores en su Boca," "Tormenta en el Lago," and "Fuego Interno") – it appeared in Potaje's CD, Flamenco Cat (2008) with this instrumentation: flute, piano and percussion (cajón, palmas and darbuka)
Zapatos con Tacón (Shoes with Heels) – tangos – composed in collaboration with Jorge Liceaga – it appeared in Potaje's CD, Charanga Flamenca (1999) – instrumentation: flute, violin, guitar, bass and percussion
Compositions for Latin Ensemble
Cálida Brisa (Warm Breeze) – bolero-son – appeared in Potaje's CD, Charanga Flamenca (1999) – instrumentation: flute, violin, guitar, bass and percussion
Cinco Dedos (Five Fingers) – Afro-Latin 6/8-jazz – composed in collaboration with singer Rennea Couttenye – instrumentation: lead voice, coro, flute, violin, cello, guitar, piano, bass and percussion
Como Plumas en el Viento (Like Feathers in the Wind) – Latin vals – it appeared in Potaje's CD, Flamenco Cat (2008) with this instrumentation: laud, bandurria, tres, bass and percussion ( bongó, pandeiro and pandero)
El Vuelo de la Habanera (The flight of the Havanera) – habanera – lyrics Edwin Losada – premiered in 2016 as part of Potaje's production, Fandango-Pandanggo – instrumentation: voice, flute, violin, guitar, piano and bass
Mañana Nublada (Morning Fog) – for flute, piano, bass and percussion
Migajas (Crumbs) – bolero-son – instrumentation: flute, violin, cello, guitar, piano, bass and percussion
Puentes (Bridges) – instrumentation: flute, violin, guitar, piano, bass and percussion
Raices (Roots) – appeared in Potaje's CD, Charanga Flamenca (1999) – instrumentation: flute, violin, guitar, bass and percussion
Travesía (Journey) – Afro-Latin 6/8 – appeared in Potaje's CD, Charanga Flamenca (1999) – instrumentation: flute, violin, guitar, bass and percussion
Travesura (Mischief) – Afro-Latin 6/8 – instrumentation: flute, violin, cello, guitar, piano, bass and percussion
Ven por Aquí (Come This Way) – Cuban guajira-son – instrumentation: flute, piano, bass and percussion
¡Venga Yá! (Come On!) – son – instrumentation: flute, violin, cello, guitar, piano, bass and percussion – also arranged for laud, violin and guitar
Volver a Comenzar (To Start Once Again) – bossa-jazz – instrumentation: flute, guitar, bass and percussion
Y Ná Má (And Nothing Else) – transatlantic rumba – appeared in Potaje's CD, Charanga Flamenca (1999) – instrumentation: flute, violin, guitar, bass and percussion – other versions include piano
¡Ay, Qué me voy! (Oh, I am living!) – son-tangos – appeared in Potaje's CD, Charanga Flamenca (1999) – instrumentation: flute, violin, guitar, bass and percussion
Tarareando (Humming) – transatlantic rumba – composition that uses the melody of La "Tarara," an Andalusian folk song – instrumentation: voice, flute, violin, guitar, tres, bass and percussion
Tertulia (Dialogue) – tanguillos-Afro-Latin 6/8 – appeared in Potaje's CD, Charanga Flamenca (1999) – instrumentation: flute, violin, guitar, bass and percussion
Compositions for Jazz Ensemble
Blues del Saltamontes (Blues of the Grasshopper) – Jazz – lead sheet
Una Blusa (A Blouse) – Jazz – lead sheet
Compositions for Advanced Student Latin Ensemble
Aquí me Quedo (I Stay Here) – guaracha – instrumentation: flute, violin, cello, guitar, piano, bass and percussion
Boardilla (Attic) – guaracha – instrumentation: flute, violin, cello, guitar, piano, bass and percussion
Comodín (Wildcard) – bulerías – instrumentation: flute, violin, cello, guitar, piano, bass and percussion
Piénsatelo (Think About It) – guaracha – composed in collaboration with Lisa Larribeau, Jerome Decq and Jacob Lawlor – instrumentation: flute, violin, cello, guitar, piano, bass and percussion
Un Poco Más (A Little More) – tangos – instrumentation: flute, violin, cello, guitar, piano, bass and percussion
Vamo[s] a Ver (Let's See) – guaracha – instrumentation: flute, violin, cello, guitar, piano, bass and percussion
Cha-Cha-Jam – cha cha chá-son – for intermediate student band – various possible instrumentations, including band with flute, violin, cello, alto sax 1, alto sax 2, clarinet, trumpet 1, trumpet 2, trombone, piano, bass and percussion (timbales, congas and güiro)
Con Alas – Latin – solo for cajónes and palmas
Inspiración (Inspiration) – Afro-Latin 6/8 – Instrumentation: coro, flute, trumpet, piano, bass and percussion
Tríptico – instrumentation: flute, violin 1, violin 2, cello, guitar, piano, bass and percussion
Compositions for Beginning/Intermediate Student Ensemble
Dorian Walk – Jazz – instrumentation: 3 flutes and piano – intermediate level
Mosaic – intermediate level orchestral piece – instrumentation: flute, trumpet 1, trumpet 2, bass clarinet, violin 1, violin2, viola, cello, bass, guitar, piano, bass, cajón
Viaje a Catania (Trip to Catania) – instrumentation: voice, flute, violin 1, violin2, viola, guitar, piano, bass, percussion
A Walking Stick and a Butterfly – children song – composed with the collaboration of Luna Alonso-Glasner and Joannie Wickstrom's 1st grade students, 2001, at Connell Elementary School in Albany – instrumentation: piano and voice
Arrangements / Latin
Akete – traditional Afro-Cuban Orisha Chant – arranged for voice, piano and bass, also arranged for large student ensemble of intermediate level: violin 1, violin 2, flute, clarinet, trumpet 1, trumpet 2, guitar, piano 1, piano 2 and percussion (bell, cajón 1 and cajón 2)
Alma Llanera – Venezuelan classic joropo by Pedro Elías Gutiérrez – arranged for large student ensemble of intermediate level: voice, violin 1, violin 2, cello, flute, clarinet, trumpet 1, trumpet 2, trombone, piano, bass and percussion
Almendra – classic Cuban danzón by Abelardo Valdes – arranged in collaboration with Tregar Otton, Steve Senft-Herrera, Bob Karty and Brian Rice – instrumentation: flute, clarinet, violin 1, violin 2, violin 3, cello, piano, bass and percussion (timbales, conga and güiro)
Chinita Linda – rumba guaguancó by Cuban ensemble, Los Papines – arranged for voice, coro, tres, bass and percussion (clave, quinto, conga, tumbadora)
Cielito Lindo – Mexican classic by Quirino Mendoza y Cortés – arrangement based on Mariachi Vargas de Tecalitlan's version – for large student ensemble of beginning/intermediate level: voice, violin, cello, flute, clarinet, alto sax 1, alto sax 2, trumpet 1, trumpet 2, trombone, guitar, piano, bass and percussion
Diablo Colorao – Cuban timba by Manolito Simonet – arranged for voice, flute, alto sax 1, alto sax 2, clarinet, trumpet, trombone,piano, bass and percussion ( timbales, conga and güiro)
Elegua Inko – traditional from Cuba – arrangement based on Los Guanches' version – instrumentation: flute, violin 1, violin 2, cello, guitar, piano, bass and percussion
En el Nombre del Cielo – traditional Christmas song from Mexico – instrumentation: voice 1, voice 2, voice 3, coro, violin, cello, guitar, piano and bass
Flores para tu Altar – by Celina González – arrangement based on Sierra Maestra's version – instrumentation: voice, flute, violin, cello, guitar, piano, bass and percussion
Los Reyes Magos – traditional villancico from Puerto Rico arranged for chorus, violin, cello, guitar, piano, bass and percussion
Moliendo Café – by Hugo Blanco – arranged for flute, violin, guitar, piano, bass and percussion
Niño Lindo – Venezuelan aguinaldo by Emilio Sojo – arranged for voice 1, voice 2, voice 3, trumpet 1, trumpet 2, cello, guitar, piano and bass
Oye Como Va – by Tito Puente and Santana – arranged for violin, flute, clarinet, trumpet 1, trumpet 2, bass clarinet, guitar, piano, bass and percussion
Parece que va a Llover – by Antonio Mata – arranged for flute, violin 1, violin 2, cello, guitar, piano, bass and percussion
Pobre de mi Cuba – by Arsenio Rodriguez – arranged for large student ensemble of beginning/intermediate level: voice, violin, viola, flute, clarinet, alto sax 1, alto sax 2, trumpet 1, trumpet 2, trombone, guitar, piano, bass and percussion
Serrana Vieja – traditional from Peru – arranged in collaboration with Daniel Zamalloa – instrumentation: voice, violin 1, violin 2, cello, alto sax 1, alto sax 2, clarinet, trumpet, trombone, bass, cajones and other percussion
Siboney – by Cuban composer, Ernesto Lecuona – arranged for voice, flute, violin 1, violin 2, guitar, piano, bass and percussion (timbales, conga and güiro)
Tango del Pecado – by Calle 13 – arranged for voice, violin, cello, alto sax, trumpet, guitar, piano, bass and percussion
Arrangements / Flamenco
Al Guruguru – traditional flamenco tangos arranged for flute, violin 1, violin 2, cello, guitar, piano, bass, cajón and palmas
Anda Jaleo – traditional from Andalucía, Spain – arranged in the flamenco style of bulerías for this instrumentation: flute, violin, guitar, bass, cajón and palmas; and also for flute, viola and bass
Campanilleros – traditional fron Andalucia, Spain – arranged for piano
Con Viento en Popa y Toda Vela – traditional flamenco alegrías arranged for flute, violin 1, violin 2, cello, guitar, piano, bass, palmas and cajón
Malagueña – traditional from Málaga, Spain – arranged for voice, flute, violin, guitar, piano, bass and cajón
Mar de Tu Sentir [El] – composition by Vicente Amigo in the flamenco style of alegrías – arranged for flute, violin, cello, guitar, piano, bass, palmas and cajón
Tangos de Tijuana – tangos – composed by Jorge Liceaga – appeared in Potaje's CD, Charanga Flamenca (1999) – instrumentation: flute, violin, guitar, bass and percussion
Tanguillos Gitanos – traditional from Spain – arranged for flute, violin, bass, guitar and percussion
Tres Hojas [Las] – traditional from Spain/Federico García Lorca – arranged for flute
Ventolera – composed by flamenco guitarist, Guillermo Rios – arranged for flute, violin 1, violin 2, cello, guitar, piano, bass and percussion
Verde que te Quiero Verde – rumba flamenca by Manzanita, based on a poem by Federico García Lorca – arranged for voice, violin, cello, guitar, bass and percussion
Volando Voy – rumba flamenca by Kiko Veneno – lead sheet
Zorongo – Traditional from Andalucía, Spain – arranged in the flamenco style of bulerías – it appeared in Potaje's CD, Flamenco Cat (2008) with this instrumentation: flute, guitar, cajón and palmas
Arrangements / Spanish Folk
Bolero de Algodre – traditional from Zamora, Spain – arranged for voice, flute, violin, bass and snare drum and castanets
Campana sobre Campana – traditional villancico from Spain – arranged for large student ensemble of beginning/intermediate level: voice, violin 1, violin 2, violin 3, viola, cello, flute, clarinet, trumpet 1, trumpet 2, trombone, piano, bass and percussion
Arrangements / Filipino
Ay! Kalisud / Querer y Vivir – an arrangement that intertwines Ay! Kalisud, a folk song from the Panay Island in the Philippines with a Mexican bolero by Consuelo Velazquez – instrumentation: 2 voices, guitar, bass and percussion (congas)
Jota Paloana – jota, traditional folkloric style from the Philippines – arranged for laud, guitar, bass and percussion
Pandanggo Rinconada – pandanggo, traditional folkloric style from the Philippines – arranged for laud, guitar, bass and percussion
Pandangguham – pandanggo, traditional folkloric style from the Philippines – arranged for laud, guitar, bass and percussion
Arrangements/ Jazz
All Blues – jazz standard by Miles Davis – arranged for guitar 1, guitar 2, guitar 3, bass and drum set
Green Dolphin Street – jazz standard by Kaper/Washington – arranged for flute, violin, piano, bass and percussion